Alright, this is gonna be a short one cause ya girl is not feeling well and is fighting sleep to wrap up this week.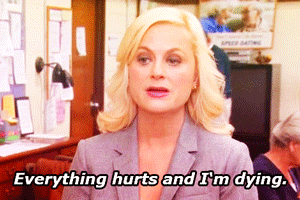 Last Week's Posts
Life Outside the Blogosphere
Oh boy, has this past week been busy! The five year old is an elf in a local music theater production and their first shows were this weekend, so last week was filled with rehearsals! And I volunteered to help get the kids on stage which is not the most fun way to spend an evening after working all day… At least all the kids in my line are sweeties, but it's just a lot of energy to try and wrangle! Especially for my introverted self. Not to mention that being crammed in a band room with a bunch of small children is probably why I'm currently trying to hack my lungs out.
A girl tries to do something out of her comfort zone and this is what happens.
Still, the show looks like it's going to be pretty awesome from what I can see from backstage. And the kids are all so excited about it that I can't help but get excited, as well. And they are pretty stinkin' cute, omg.
I would just like to not be sick now, though, thanks. My best friend came over last night and we had to call it early cause I just could. not. hang. It's okay, though, since we're planning on going out to dinner in her neighborhood next weekend. And I may be coughing so much my sides ache, but at least I don't have a sore throat!
I do need to get some sleep, though, because I do have work tomorrow and I'm hoping to be feeling better by then. So let me stop complaining and wrap this up!
Random Stuff
Song of the Week:
The kids in the play are singing a portion of this song in the show and it has been stuck in my head. ALL. WEEK.
So now I'm sharing it with you all *grin*
Factoid of the Week:
"In the 18th century, wealthy British landowners hired ornamental hermits to live in their gardens."
I hope everyone has a great upcoming week.
And, as always, happy reading!