It's the end of December and the new year is knocking at the door. As happens every year, I've been reflecting about this past year and what I want to get out of next year. 2019 was the year that I really got back into reading. The year before, I could barely get through a book because my mind was just all over the place. In 2019, I actively decided that I wanted to rediscover my joy of reading and, I have to say, it has been a wonderful reading year! I read a lot of amazing books this year, I discovered the online bookish community, and I'm back to being excited by books!
Now that I've rekindled my love of the written word, I've decided to shift my focus for the next reading year. Our move this summer forced me to look through all my books and I realized just how many books I own that I haven't even read. I filled an entire bookshelf with just unread books! And there's still a box of books that I haven't unpacked because one of bookcases was broken during the move, so there could be more unread books in there! Therefore, for 2020, I've decided my focus will be on digging into my owned TBR.
So what does this mean in practice? This means that I will only be reading books that I already own, whether that be physical books, e-books, or audiobooks. I will also be placing myself on a *dun dun DUN* book buying ban. The only way that I will be acquiring new books will be through Book of the Month club because I just can't cancel my subscription, I love it too much! I will be limiting myself to limiting myself to picking one book and not getting add-ons which is gonna be freakin' HARD, but I'm gonna try! The plan is that, by the end of the year, at least half of the books on my TBR bookshelf will no longer be unread. I want to make a significant dent in my owned TBR and I think I can do it!
Keeping in mind that I want to focus on reading books that I already own, I do want to attempt a couple of reading challenges, as well. First, I'm excited to do the PopSugar Reading Challenge again! I attempted this challenge in 2019 and did… okay? I finished quite a few of the prompts but kind of stopped keeping track so now I have no idea how many I actually finished, lol. But now ya girl has a blog where it will be much easier to track her challenges, so that shouldn't be a problem *wink* The prompts can be seen below: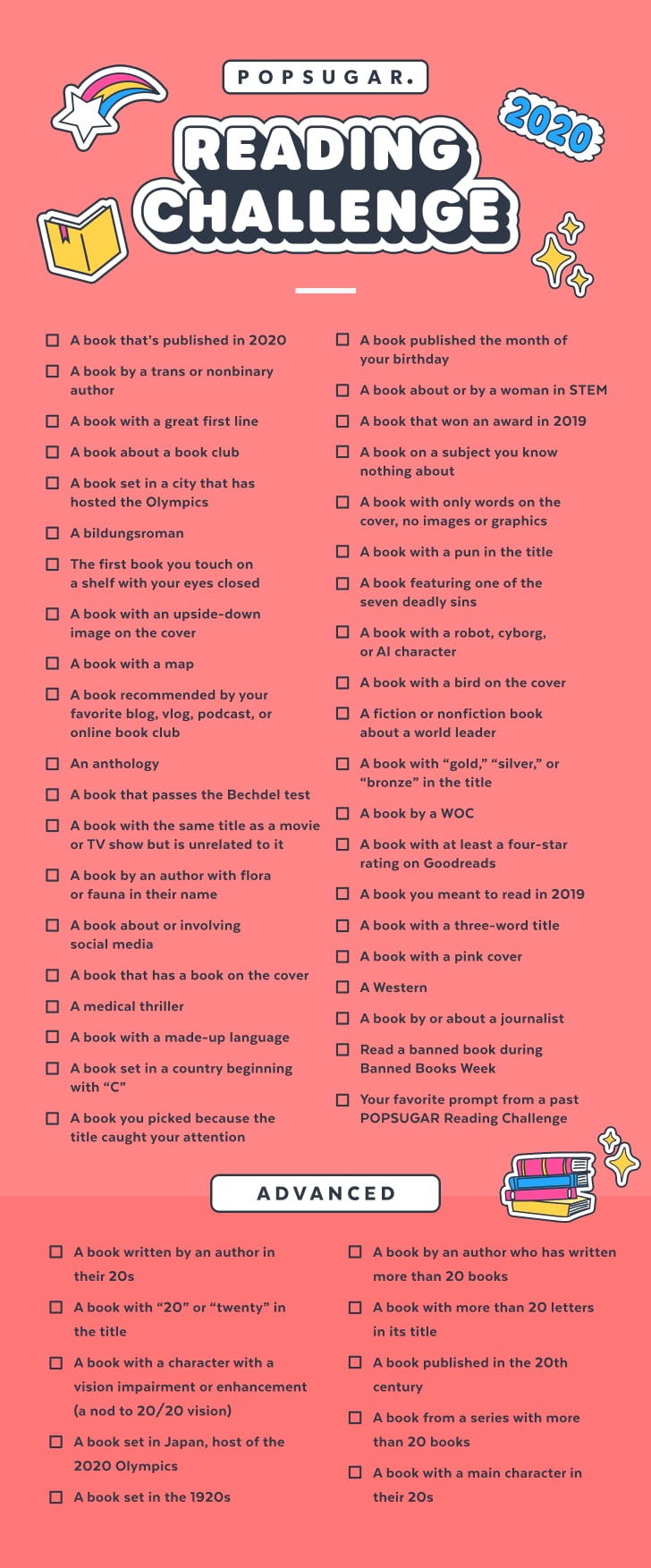 I'm also participating in the #StartOnYourShelfathon hosted by The Quiet Pond. It's a readathon that is literally perfect for my 2020 reading goal! The purpose of the readathon is to focus on reading books that you already own. They can only be books you haven't read before, though. No re-reads allowed! If you want to learn more about the #StartOnYourShelfathon, check out my post about it or head over to The Quiet Pond to get the real inside scoop.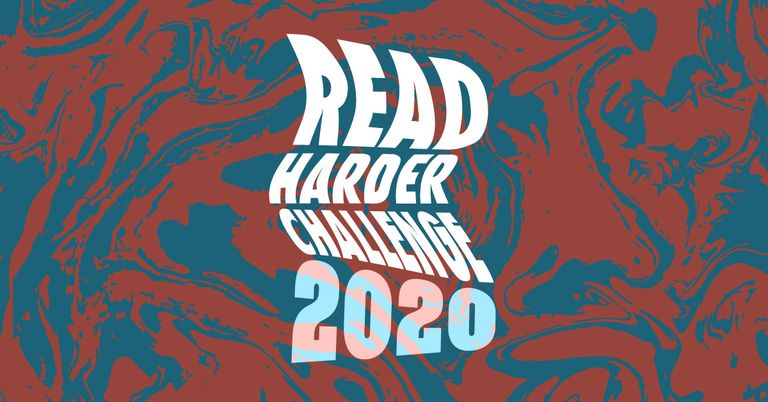 I'm also planning on doing the Book Riot Read Harder Challenge for 2020. I found out about this challenge when I was browsing reading journals on Amazon and came across the one made my Book Riot for the 2019 Read Harder Challenge. I, however, didn't realize that it was for 2019 and bought it, so I suppose if I finish the prompts for 2020, I can attempt the 2019 prompts as well, lol. For a list of the prompts, click here. It will take you to the website were you can get a downloadable and editable PDF of all the challenge tasks!
In addition to my main goal, I do have a couple of side goals I would like to focus on for next year. The first side goal I have is to focus on my ARCs and reading them in a timely fashion. I've gotten so behind and I really want to bring my Netgalley rating back up. Not to mention the fact that I feel so privileged for being able to receive these ARCs that I feel equally guilty when I don't read and review as soon as I should. So I'm going to focus on finishing/reviewing ARCs before their release date or, barring that, at least within the month they are released.
My next side goal is to utilize my local library more often. When we lived in New Mexico, our library was a nice little place, but the selection was less than stellar. Though I still used the library, I started relying more on buying books to get to ones I really wanted to read. When we moved, one of the first things I did was go to our local library and get us a card. I don't know what I was expecting, but I know my expectations were low. Thankfully, my expectations were blown out of the water! The selection at our new library is OUTRAGEOUS! And they are part of a larger library network so even if they don't have a book, they have no problem getting it. It's amazing! That being said, I want to utilize the library more for books that I would usually buy, especially new releases. I do plan on keeping a list of books that I really loved and buying once my self-imposed ban is lifted, but this will be a good way to stick to my goal, support my local library, and still read the new books I want to read. It's a win-win-win!
And my last very, very, VERY side goal is to try and read at least one classic a month. I say it's a very side goal because classics and I don't tend to get along very well. I want to try and change that, but I also don't want to throw myself into a rut by trying to force my way through a book just because it's a "classic". What I'm going to attempt to do is pick out classics that are recommended to me by people who's tastes I trust. Maybe then I can avoid picking anything up that will bore me to tears. I also won't be upset if I don't meet this goal, but I definitely want to give it a try!
Alright, that's all my goals for 2020! I think it's just the right amount of ambitious and I'm really excited to start cutting down on my owned TBR. I see a bright reading year up ahead!
Do you have any reading goals for 2020? Let me know about them in the comments!
And, as always, happy reading!