Can't-Wait Wednesday is a meme where you get to flail about whatever upcoming book you're excited to read. Though it is generally a new release, it certainly can be any book that's on your TBR! This meme is currently hosted by Wishful Endings and it's based on Waiting on Wednesday, hosted by the fabulous Jill at Breaking the Spine.
---
With the general craziness that is the world right now, I've been surprisingly busier than one would think. I still have to go to work while most are sequestered to their homes because I work in healthcare. Though I'm certainly not on the front lines, it's still been a very interesting time. Not to mention trying to make sure the kiddos aren't falling behind with school stuff. You would think that not being able to go anywhere on my days off would be very conducive to reading, but it's mostly been conducive to spending time with the family to help them de-stress. Which I'm super okay with 💕
That being said, I haven't finished a book since my last WWW Wednesday 😅 So we're going to talk about a book that I'm anticipating, instead! There's a lot of uncertainty in the book world right now, especially when it comes to publishing, but there are still quite a few books that will be coming out in the next couple of months that I can't wait to read!
For this week's Can't-Wait Wednesday, I've decided to highlight one of my most anticipated May releases. Want some hints?
There's knights ⚔
There's a Renaissance Faire 👑
There's FEMINISM 💁🏾‍♀️💪🏾
And the book is… *drum roll*
GoodReads Synopsis:
"Kit Sweetly slays sexism, bad bosses, and bad luck to become a knight at a medieval-themed restaurant.
Working as a wench―i.e. waitress―at a cheesy medieval-themed restaurant in the Chicago suburbs, Kit Sweetly dreams of being a knight like her brother. She has the moves, is capable on a horse, and desperately needs the raise that comes with knighthood, so she can help her mom pay the mortgage and hold a spot at her dream college.
Company policy allows only guys to be knights. So when Kit takes her brother's place and reveals her identity at the end of the show, she rockets into internet fame and a whole lot of trouble with the management. But the Girl Knight won't go down without a fight. As other wenches join her quest, a protest forms. In a joust before Castle executives, they'll prove that gender restrictions should stay medieval―if they don't get fired first."
Publication Date (hopefully): May 5th, 2020
Pre-order and support an indie?: Find it on Indiebound!
Why I'm Excited:
Well… I love Renaissance Faires and I love feminism! I've recently discovered that I really enjoy books that are set at a Ren Faire and I need more of it. And the whole concept of this novel makes me want to gobble it up.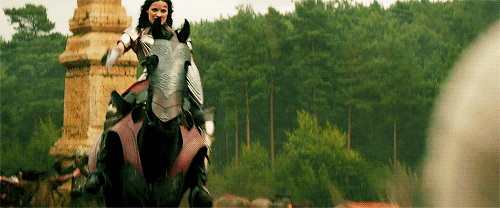 Lady knights, for the win!
---
What is a book you can't wait to read? Did you participate in Can't-Wait Wednesday? Let me know in the comments!
And, as always, happy reading!