Hello, reader!
Now that it is officially spooky season, I find myself craving all the creepy reads. So, when I saw the call for participants for the Vampires Never Get Old tour hosted by Hear Our Voices Book Tours, I jumped all over it! Make sure to check out the other amazing hosts on this tour by clicking HERE.
I'm going to be upfront right now: vampires and I have a rocky past. I went through a period where they were my favorite creatures of the night. I couldn't get enough vampire content! But, recently, I've felt mostly lackluster towards them and I'm gonna go ahead and blame the True Blood TV series for that. Thanks a lot, Bill.
That being said, I've been feeling that old love coming back. I've been craving a good vampire story to sample to see if, perhaps, they can reclaim their top spot as my favorite creepsters. What better way to do that than with an anthology dedicated to our fanged fiends? This entire anthology was a lot of fun and I can't thank Hear Our Voices and the publisher, Imprint/MacMillan, for letting me read this book early in exchange for participating in this tour!
But enough of my rambling. Let's dig into this tour post, shall we?
---
---
"Eleven fresh vampire stories from young adult fiction's leading voices!
In this delicious new collection, you'll find stories about lurking vampires of social media, rebellious vampires hungry for more than just blood, eager vampires coming out―and going out for their first kill―and other bold, breathtaking, dangerous, dreamy, eerie, iconic, powerful creatures of the night.
Welcome to the evolution of the vampire―and a revolution on the page.
Vampires Never Get Old includes stories by authors both bestselling and acclaimed, including Samira Ahmed, Dhonielle Clayton, Zoraida Córdova and Natalie C. Parker, Tessa Gratton, Heidi Heilig, Julie Murphy, Mark Oshiro, Rebecca Roanhorse, Laura Ruby, Victoria "V. E." Schwab, and Kayla Whaley."
---
Author: Samira Ahmed, Dhonielle Clayton, Zoraida Córdova and Natalie C. Parker, Tessa Gratton, Heidi Heilig, Julie Murphy, Mark Oshiro, Rebecca Roanhorse, Laura Ruby, Victoria "V. E." Schwab, and Kayla Whaley
Publisher: Imprint/MacMillan
Publication date: September 22nd, 2020
Genre: Fantasy/Horror/Paranormal Fantasy
Age group: Young Adult
Content/Trigger warnings: Please see individual story reviews for possible content/trigger warnings.
Book Links
Bookshop::Indiebound::TBD::Kobo::B&N::Amazon::Goodreads
Review in Gifs + Favorite Quotes
---
Here's a fun fact about me: I haven't read a ton of anthologies. Which mean, when it came down to writing this review, I was unsure how to tackle it at first. Do I review the book as a whole? Do I fully review each story? Then, I remembered that I had signed up to do a review in gifs and to share some of my favorite quotes from Vampires Never Die. So, I figured, why not do a spooky gif and a fave quote for each of the eleven tales found in this anthology? Let's dive in!
Seven Nights for Dying by Tessa Gratton
Claudia becoming a vampire in Interview With a Vampire
"This other vampire, Seti, agreed that teenage girls definitely make the best vampires, but not for the reasons Esmael thinks. She said it's because teenage girls are both highly pissed and highly adaptable, and that's what it takes to survive the centuries."
The first story in the anthology follows a young woman as she tries to decide whether or not she wants to become a vampire. Instead of turning all at once, though, the process in this story takes seven days and she can back out at any time. I thought this put an interesting twist on the creation myth! The strength of this story is in it's characters. Tessa Gratton took the limited time we had with our main character and managed to give her depth that some full length novels can't achieve.
Mirrors, Windows & Selfies by Mark Oshiro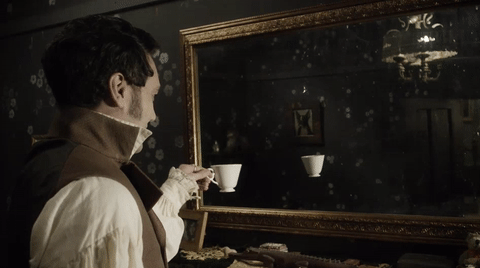 A vampire holding a teacup in front of a mirror showing no reflection
"There's one brief moment as the sun rises in the east, and it's blocked by the branches of the willow tree outside one of the windows that's not boarded up. It's just the essence of light, and if I turn my face so that it is toward the window, it's there. In the computer screen. The color of my face. A brief reflection of it."
This was one of my favorite stories! The protagonist, Cisco, is a young vampire who is being hidden away from the world by his parents. They say he is the only one of his kind, a vampire born not made, and that they hide him for his protection. But Cisco wants the freedom to see more and, most importantly, to see himself. I loved the format of this story (it's written as blog posts, complete with comments) and how much the author can make you ache for Cisco's situation. This is a coming-of-age story with a dark twist and I really enjoyed it!
The House of Black Sapphires by Dhonielle Clayton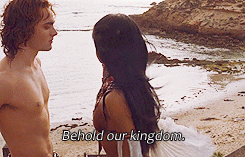 Akasha, Queen of the Damned, saying "Behold our kingdom" to Lestat
"The firebird perched on the porch railing, cooing and welcoming the Turners to their new home. Bea's heart lifted, the hum of mischief lingering right beneath the brown of her skin, and her incisors elongated, ready to bite, ready for mischief."
I thought this story about a bevy of beautiful, Black vampires was quite fun. The Turners have just had to move (again) and have ended up in the city of New Orleans. They are all ready to get to their new home, but Bea, our protagonist is also yearning for something more. She wants to find her eternal love. I loved the way this story weaves together. Dhonielle Clayton certainly has a way with words! And the splash of romance that we get had me wanting more.
The Boys of Blood River by Rebecca Roanhorse
Vampire showing their fangs
"We stand there in silence until I say, "I'm alone now."

"You don't have to be."

It's what I wanted him to say but I didn't dare hope. I want to shout at him to take me away, get me out of this town, away from the diner and bullies and my empty house. But instead I ask, "What do I have to do?"

"Share a meal"
Another one of my favorites! This story by Rebecca Roanhorse was probably one of the most frightening in the entire anthology and I was living. For. It. The dark tale follows Lukas, a young Native man who is working to make ends meet in a dead-end town. He's bullied for being gay, his mom is very sick, and he wants nothing more than to just feel safe. Enter the Blood River Boys, a group of mysterious men with an air of danger and promises on their lips. This story got real spooky, real quick and I loved it! The atmosphere was woven so well that I wouldn't recommend reading this at night if you scare easily 💀
Senior Year Sucks by Julie Murphy
Buffy the Vampire Slayer twirling a stake
"Is that how the big scary slayer ended up in a tiny little skirt as captain of the cheerleading team? She just wanted to be a normal girl?"

"How'd you know I was captain?"

"I can smell dominance," she says."
I do love a good vampire slayer story and this one was a treat! It gives off major Buffy vibes, with our main character being a high school cheerleader who happens to hunt vampires on the side. We also get fat representation in this story as our slayer is described as such. I thought the way Jolene talked about her size and how it had no bearing on her skills as both a cheerleader and a slayer was awesome! And there's the added wrinkle of her meeting a vampire that she might possibly want to kiss more than she wants to stake. This is one of the stories where I wanted it to keep going!
The Boy and the Bell by Heidi Heilig
A grave with mist drifting behind it.
"Other rumors of live burial have cropped up in the intervening time, some of them so wild they were clearly fiction. A body dissolving into smoke, a wolf wrapped in a burial shroud fleeing an open tomb. Dozens of coffins reported empty when they're been dug up to check – but Will knows the reason for that."
CW/TW: Intentional misgendering
This story was deliciously creepy and I loved it! It also stars a transgender graverobber who stumbles on something rather supernatural while on the job. I loved the mixture of science and superstition in this story. The dark, spooky atmosphere of this story made it fun to read at night, too! This short tale really grips you and makes you forget that you live in the 21st century for a small space of time. The writing snagged me quickly and did not let go!
In Kind by Kayla Whaley
A v. angry vampire woman
"I'm still not used to this new strength. Vampirism is almost the exact mirror of the disease I had in life, strengthening instead of weakening my muscles. I tried to lift my head when I woke after turning and nearly snapped my neck from utter lack of resistance. I still can't walk, of course. No amount of increased strength will ever stretch out tendons strung taut as tightrope from years of disuse, and thank God for that.

I don't think I could've handled losing that much of myself."
CW/TW: Caregiver abuse
We start this story off with a murder and it just gets more intense from there. I thought this story about a disabled girl who was turned after her father attempts a "mercy killing" (biggest eye roll ever) was horrifying on several different layers. The writing is excellent and I definitely felt the anger that is motivating our protagonist. And this story had one of the most satisfying endings out of all the ones in this anthology!
A Guidebook for the Newly Sired Desi Vampire by Samira Ahmed
A hand reaching out of a coffin with the text "Trying to reach for my phone when I wake up".
"We normally like to be organized about this sort of thing, but in our experience, there are immediate burnng questions every baby vamp has, so let's get a few out of the way to put your mind at ease:

Am I Dracula now? No, duh, that dude was pasty as hell. Your melanin doesn't magically disappear because vampirism…
I loved the concept and the formatting of this story! The premise is that you, the reader, are a newly sired desi vampire and a new app has appeared on your phone to guide you through this unfamiliar territory. I love the tongue-in-cheek humor and all the cultural references. There's also a really interesting discussion on colonialism which I loved. I always enjoy when social issues are interwoven into fantasy/horror. This was fun while taking a hard look at the effects of colonialism that are still seen today.
Bestiary by Laura Ruby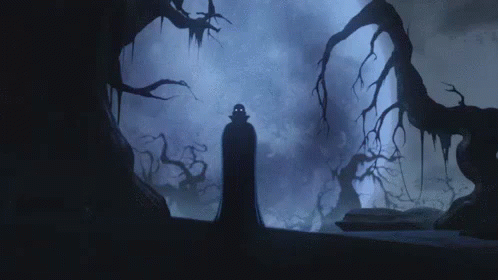 Vampire turning into bats
"The familiar queasy thirst clenched her stomach, pulsed at the root of her tongue. If she didn't keep moving, the thirst would permeate the air like a perfume, call to the people around her. They would come to her whether she wanted them to or not, offer themselves, even if their eyes rolled in confusion and terror as they did.

So she did keep moving, the proverbial shark in the water, swimming so as not to die. As if she could."
Oh man, was this story topical. There's a bird flu that has swept the country. Water has become scarce and corporations are jacking up the prices. Most people are struggling while the 1% are living it up. And, in the middle of it all, we have Jude, a girl who was turned against her will and can now talk to animals. Among other things. Jude was such an intriguing character and I loved how complex she is. I enjoyed the animal communication aspect, as well. I thought it added an interesting wrinkle. I would have loved to get more of this story, but it was definitely a solid entry in this anthology.
Vampires Never Say Die by Zoraida Córdova and Natalie C. Parker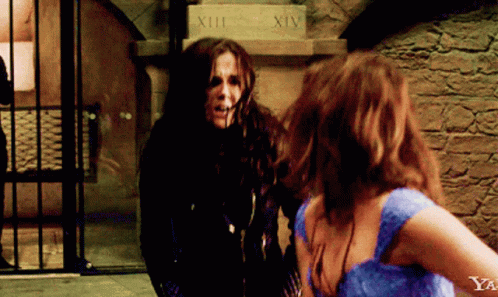 Vamp fight!
"For an indulgent moment, I convinced myself that meeting Theo in real life would be quite beautiful. Despite the vast and considerable difference in our ages, to say nothing of our circumstances, I thought meeting her would be like seeing the sun. And I very much wanted to see the sun once more."
And we've arrived at, perhaps, my favorite story in the entire anthology! Definitely top two. In this, we follow the story of Theolinda and Brittany, two friends that have a deep relationship on Instagram but have never met in real life. Mostly because Brittany happens to be the Vampire Premier of NYC and Theo has no idea. But Theo wants to finally meet the person she's grown close to on social media and decides to do it big… she throws a surprise party for Brittany and invites all her friends! Friends who all happen to be vampires. This story was a ride, y'all. The story is told from both Theo and Brittany's perspectives and is intense! I loved the characters, I loved the creepy atmosphere, and I loved the fierce friendship between these two women.
First Kill by Victoria "V.E." Schwab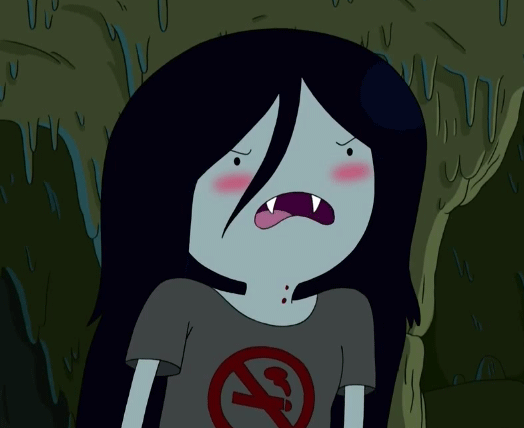 Marceline from Adventure Time blushing
"There is the subtle ache in her mouth, the shallow longing of her teeth sliding out. And in that moment, between the fangs and the bite, she thinks of how she'd rather go to a movie, rather enjoy the scent of Calliope's hair, the murmur of her laugh, rather stay in this closet, and keep kissing her.

Just two human girls tangled up.

But she is so hungry, and her mouth hurts so much, and she is not human, and she wants to be more."
This is the other contender for the top spot! I absolutely loved this story of a vampire and a slayer both planning for their first kill, but perhaps finding their first love. This story is told from both Juliette, our vamp, and Calliope, our slayer's, perspective. It's so intriguing watching the same day play out through their very different eyes. Also, Calliope's family gave me major Supernatural vibes and I loved it! Definitely a fun, scary, and intense story. Can we get a whole book about these two? Please??
Final thoughts: Overall, I found myself really enjoying this anthology. Has it resparked my interest in creatures of the blood-sucking kind? I would say 'yes' but with a caveat. Give me all the diverse vampire stories! I loved the representation in this anthology and I think it gives a fresh spin on an old tale. As with any short story collection, there were some stories I enjoyed more than others, but they all struck me in some fashion. If you're looking for vampire stories that will delight and frighten you in unique ways, I think you'll enjoy Vampires Never Get Old!
Star rating:
---
Tessa Gratton is the author of adult SFF The Queens of Innis Lear and Lady Hotspur from Tor Books, as well as the YA series The Blood Journals and The United States of Asgard. Her most recent YA is the original fairy tale Strange Grace from McElderry Books and the upcoming Night Shine. Tessa's novels and short stories have been translated into twenty-two languages, nominated twice for the Tiptree Award, and several have been Junior Library Guild Selections. Though she has lived all over the world, she currently resides at the edge of the Kansas prairie with her wife.
---
Mark Oshiro is the author of Anger is a Gift (Tor Teen), winner of the 2019 Schneider Family Book Award and nominated for a 2019 Lammy Award (in the LGBTQ Children's/Young Adult category). Upcoming novels include Each of Us a Desert (Tor Teen), a YA Fantasy novel out September 15, 2020, and The Insiders (Harper Collins), a MG Contemporary with magical elements out Fall 2021. When they are not writing, crying on camera about fictional characters for their online Mark Does Stuff universe, or traveling, Mark is busy trying to fulfill their lifelong goal: to pet every dog in the world.
---
Dhonielle Clayton was born in the suburbs of Washington, DC and spent her childhood Saturdays at the comic book store with her father and most evenings hiding beneath her grandmother's dining room table with a stack of books. She earned a BA in English at Wake Forest University. She was an English teacher for three years and worked with educational curriculum. Being surrounded by children, Dhonielle re-discovered her love of children's literature and earned a masters in children's and young adult literature from Hollins University. Currently, she is working on both middle grade and young adult novel projects. She moved to NYC where she earned her MFA at the New School's MFA Program. She is co-founder of CAKE Literary, a literary development studio committed to bringing diversity to high concept content.
---
Rebecca Roanhorse is a NYTimes bestselling and Nebula, Hugo and Locus Award-winning speculative fiction writer and the recipient of the 2018 Astounding (Campbell) Award for Best New Writer.
Her novel Trail of Lightning (Book 1 in the Sixth World Series) won the Locus Award for Best First Novel and is a Nebula, Hugo and World Fantasy finalist. It was also selected as an Amazon, B&N, Library Journal, and NPR Best Books of 2018, among others. Book 2 in the Sixth World Series, Storm of Locusts, has received starred reviews from Publisher's Weekly and Booklist, is a Locus Award Finalist, and has been named an Amazon, Powell's, and Audible Best of 2019. Her novel, Resistance Reborn, is part of Star Wars: Journey to The Rise of Skywalker and a USA Today and NYTimes bestseller. Her middle grade novel Race to the Sun for the Rick Riordan Present's imprint was a New York Times Bestseller and received a starred review from Kirkus. Her next novel is an epic Fantasy set in a secondary world inspired by the Pre-Columbian Americas called Black Sun, out Oct 13, 2020.
She lives in Northern New Mexico with her husband, daughter, and pups. She drinks a lot of black coffee.
---
Julie Murphy lives in North Texas with her husband who loves her, her dog who adores her, and her cats who tolerate her. After several wonderful years in the library world, Julie now writes full-time.
When she's not writing or reliving her reference desk glory days, she can be found watching made-for-TV movies, hunting for the perfect slice of cheese pizza, and planning her next great travel adventure.
She is also the #1 New York Times bestselling author of the young adult novels Dumplin' (now a film on Netflix), Puddin', Ramona Blue, and Side Effects May Vary. Dear Sweet Pea is her debut middle grade novel.
---
Heidi Heilig grew up in Hawaii where she rode horses and raised peacocks, and then she moved to New York City and grew up even more, as one tends to do. Her favorite thing, outside of writing, is travel, and she has haggled for rugs in Morocco, hiked the trails of the Ko'olau Valley, and huddled in a tent in Africa while lions roared in the dark. She holds an MFA from New York University in Musical Theatre Writing, of all things, and she's written books and lyrics for shows including The Time Travelers Convention, Under Construction, and The Hole. She lives in Brooklyn with her husband, son and their pet snake, whose wings will likely grow in any day now. In her debut, The Girl from Everywhere, Heidi Heilig blends fantasy, history, and a modern sensibility with witty, fast-paced dialogue, breathless adventure, and enchanting romance.
---
Kayla Whaley lives outside Atlanta, Georgia where she buys too many books and drinks too many lattes. She holds an MFA in creative nonfiction from the University of Tampa and is a graduate of the Clarion Writers' Workshop. She was named one of Bustle's inaugural "Rule Breakers" in 2018.
Whether writing fiction, nonfiction, or the extremely occasional poem, she is fascinated by disability, sexuality, and the body. Among other venues, her work has appeared at Catapult, Bustle, Michigan Quarterly Review, Uncanny Magazine, Book Riot, and in the anthologies Here We Are: Feminism for the Real World (Algonquin) and Unbroken: 13 Stories Starring Disabled Teens (Farrar, Straus, and Giroux).
She has also appeared on the first season of Reese Witherspoon's podcast How It Is and Slate's popular Dear Prudence podcast.
Whaley spent four years as senior editor at Disability in Kidlit, an award-winning site dedicated to examining portrayals of disability in middle grade and young adult fiction, and she is currently on the Advisory Board for Research on Diversity in Youth Literature, a peer-reviewed journal published by St. Catherine University. She also holds a Master's in Public Administration, which is languishing somewhere in her closet, so the less said about that, the better.
---
---
A two-time National Book Award Finalist, Laura Ruby writes fiction for adults, teens and children. She is the author of the Printz Medal Winning novel Bone Gap, as well as Thirteen Doorways, Wolves Behind Them All. Other works include the Edgar®-nominated children's mystery Lily's Ghosts, the ALA Quick Pick for teens Good Girls (2006), a collection of interconnected short stories about blended families for adults, I'm not Julia Roberts (2007), and the York trilogy. She is on the faculty of Hamline University's Masters in Writing for Children Program. She makes her home in the Chicago area.
---
Zoraida Córdova is the author of many fantasy novels, including the award-winning Brooklyn Brujas series, Incendiary, Star Wars: Galaxy's Edge: A Crash of Fate, and The Way to Rio Luna. Her short fiction has appeared in the New York Times bestselling anthology Star Wars: From a Certain Point of View, Star Wars: Clone Wars Stories of Light and Dark, and Come On In. She is the co-editor of Vampires Never Get Old. She is the co-host of the writing podcast, Deadline City, with Dhonielle Clayton. Zoraida was born in Guayaquil, Ecuador and raised in Queens, New York. When she's not working on her next novel, she's finding a new adventure.
---
Natalie C. Parker grew up in a Navy family finding home in coastal cities from Virginia to Japan. Now, she lives surprisingly far from any ocean on the Kansas prairie with her wife where she writes and edits books for teens including the acclaimed Seafire trilogy.
---
Victoria "V.E." Schwab is the #1 NYT, USA, and Indie bestselling author of more than a dozen books, including Vicious, the Shades of Magic series, and This Savage Song. Her work has received critical acclaim, been featured by EW and The New York Times, been translated into more than a dozen languages, and been optioned for TV and Film. The Independent calls her the "natural successor to Diana Wynne Jones" and touts her "enviable, almost Gaimanesque ability to switch between styles, genres, and tones."