One Sentence Synopsis
Rin, a war orphan who is trying to escape an arranged marriage, finds herself enrolled in the most prestigious military academy in the country after she aced the entrance exams.
Favorite Quote
"When had she last been this scared? Had she felt this paralysis, this numbing dread before she stepped into the ring with Nezha two years ago? No, she had been angry then, and proud. She had thought she was invincible. She had been looking forward to the fight, anticipating the bloodlust. That felt stupid now. So, so stupid. War was not a game, where one fought for honor and admiration, where masters would keep her from sustaining any real harm. War was a nightmare."
---
By now, I'm sure most people who are even remotely a part of the bookish community have heard about The Poppy War. This book came out in 2018 and has been talked about pretty much non-stop ever since! It appeared on my TBR after a severe case of FOMO had me adding a bunch of book community darlings on Goodreads. And there it sat… collecting dust and shaming me as I continued to pick up different, newer books. That was until I joined a buddy read with some awesome bookish folks on Twitter! It was just the push I needed to finally give this book a go and see if I would like it.
Y'all. This book destroyed me. I was in such a book hangover after finishing it that I barely got through three other books in October. It was a struggle! After all that waiting, I finally realize why everyone was raving about this story!
We're following a young war orphan named Rin, who is in the care of drug dealers who use her to help them with their seedy business. When they decide to force Rin into an arranged marriage, she decides that she needs to GTFO. She starts studying for the Keju, a test used throughout the Empire to pick people to send to the numerous academies. Rin figures if she gets a good enough score, she can escape to an academy instead of being stuck in a marriage she does not want. Well, not only does she receive a good enough score, she aces the test and is sent to the most prestigious academy in the entire country: Sinegard. Once there, she has to fight against prejudice, her classmates, and her own mind to prove she's more than what she seems.
I always have issues writing reviews for my five star reads. All I want to do is scream at everyone to read the book! Of course, a lot of people already have read this book, so I suppose I should try and be a little more coherent 😂 So let's try breaking this down into the main things I loved about this book. Besides everything.
First, the writing. Oof, the writing! Talk about being captured in a narrative through beautiful writing alone! I'm not talking about purple prose… there's nothing purple about Kuang's writing. I'm talking about writing that flows and twists in such a way that you soon find yourself lost in the pages. There are so many quotable passages that it took me forever to pick a favorite! I just loved everything about her prose. It made the pages fly by! That and the incredible pacing. I was kept on the edge of my seat even when nothing particularly exciting was happening. I was so wrapped up in Rin's development and her journey that even her running up and down a mountain with a pig on her back seemed fascinating, lol.
Speaking of Rin, can we talk about how R.F. Kuang crafted such compelling characters??? I'm honestly in awe. Not only Rin, but Jiang and Kitay and Nezha and Altan and all of them practically leap off the page! Rin makes a lot of… questionable choices, but I connected with her so much. I was completely invested in her journey. I felt her anger and I felt her pain. I wanted to shake her and I wanted to hug her all at the same time! She's just such a dynamic and vibrant character who will pull you even further to the world. And, as I said, the characters that are pulled into her orbit are equally brilliant and intriguing. They all have such depth and color that they can't help but shine! I haven't been so invested in a bunch of fictional characters in quite some time.
Last, let's talk about the world-building. I love when an author can weave the world-building into the story so that it doesn't feel like you're reading a textbook. R.F. Kuang managed this throughout The Poppy War. You learned about the world almost subconsciously, picking up tidbits of information as Rin goes on her journey from the Rooster Province to Sinegard to war. It made it really easy to fall into the world and lose yourself as you read. It made the scenes come to life in my mind, vivid and bloody and haunting. And I think this is the main reason I had such a massive book hangover! I was so trapped in the world that every other book I picked up felt boring and flat in comparison. Makes me nervous to finish the sequel, The Dragon Republic, this month before all the other books I'm reading…
Final thoughts: Words fail me, so have a gif.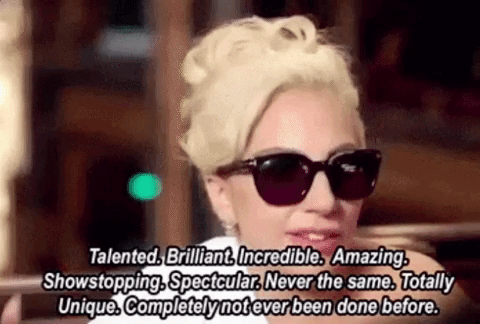 Seriously, this book is incredible and I cannot wait to continue the series! Even if I'm scared to do so at the same time 😅😂