Hello, reader!
If you spend anytime in the online bookish community, you probably already know what this post is about. You probably saw a certain graphic floating around the internet at the beginning of 2022. If not, let me give you a peek at the beautiful template made by @shadowbooker over on Instagram!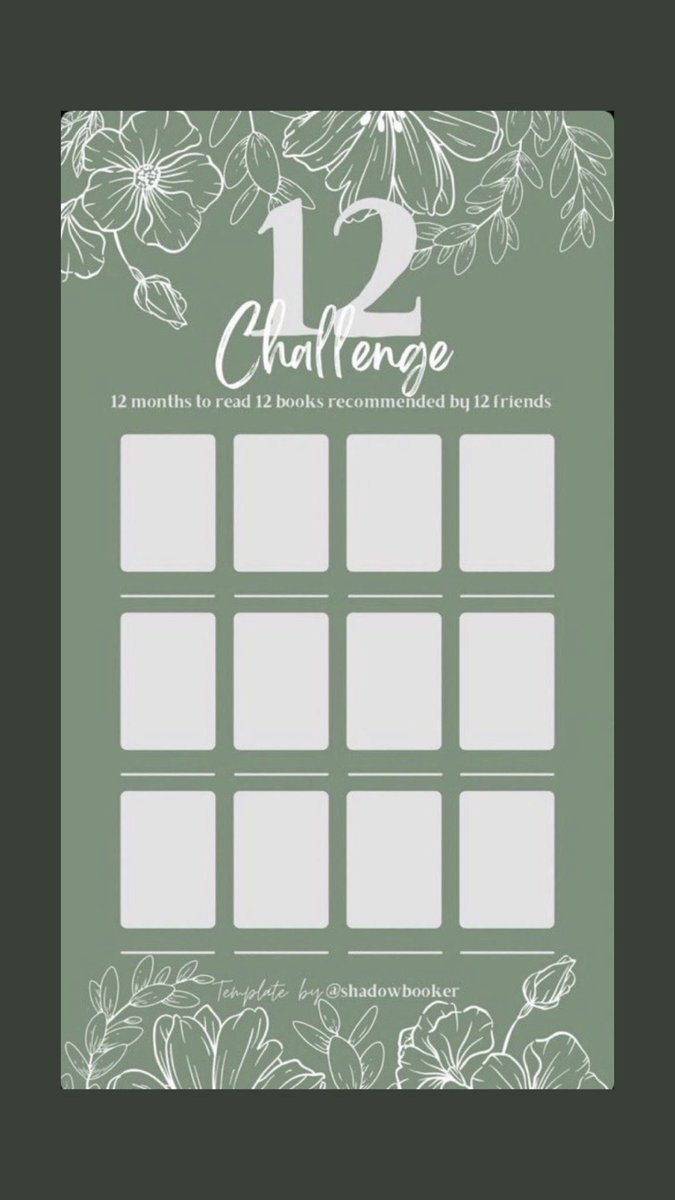 This graphic/challenge prompts you to read 12 books that have been recommended to you by 12 friends. It sounded like fun (and was literally everywhere), so I figured I would give it a shot! So, through a mix of both online and IRL friends and family, I cobbled together a TBR of twelve recommendations that I wish to read in 2022.
---
My 12 Challenge
First, I want to say "Thank you!" to everyone who gave me a recommendation! I made sure to ask for books beyond my usual SFF realm and y'all certainly delivered. I think I have a good mix of SFF, mystery/thriller, and romance going on here and that's exactly what I asked for. I do love my fantasy and science fiction, but 2022 feels like a good year to try and branch out a little more. That being said, let's take a look at the books that I ended up choosing from all your wonderful recommendations ❤
My 12 Books
The Jasmine Throne by Tasha Suri
This beautiful book that is part of the sapphic trifecta has been calling to me ever since I received it in an Illumicrate box. I've heard so many great things about this start to an epic fantasy about a vengeful princess and her maidservant hiding a dangerous secret. It sounds like something I'm going to absolutely love!
---
Old Man's War by John Scalzi
This sci-fi has been on my radar for a minute, but I've never gotten around to reading it. John Scalzi is one of those names that is constantly popping up when I'm looking for new sci-fi to get into. When this book was recommended, seemed like it was a good time to give it and the author a go! Besides, the concept of not being able to join a war til you're at retirement age seems like it's gonna make an interesting story.
---
Local Woman Missing by Mary Kubica
Mary Kubica is another author name I constantly hear popping up, but this time in regards to thrillers! I've been curious about her work, so I jumped at this recommendation. This story about three disappearances and the one that returns after 11 years sounds like it's going to keep me at the edge of my seat. I can't wait!
---
The Maid by Nita Prose
I actually just got this book in my Book of the Month club box! It was a new add-on this month and, even though I said "no add ons this year", this was already on my 12 Challenge sooooo… I did it for the content, y'all 😂 Seriously, though, I've heard incredible things about this mystery novel. The synopsis compares it to Clue, which is one of my favorite movies, so you know I'm in.
---
The Bridge Kingdom by Danielle L. Jensen
I may have mentioned before that I've been in a romance mood that has come out of nowhere recently. I'm still easing into the romance genre, so I figured a book that blends it with my favorite genre would be a good fit. This has a little bit of everything, according to the synopsis… political intrigue, enemies to lovers, and perhaps a war. I'm eager to see how I get on with it.
---
Act Your Age, Eve Brown by Talia Hibbert
Now, technically, I was recommended the first book in The Brown Sisters series and then the whole series. But, since I've already read the first book (and the second book), I figured I'd pick the last one for my challenge. I loved both Get a Life, Chloe Brown and Take a Hint, Dani Brown, so I'm fairly certain this one will be a hit, as well. I hear this is a grumpy/sunshine pairing, too, which is just *chef's kiss*
---
The Invention of Wings by Sue Monk Kidd
This is the only book on this list that isn't a SFF, mystery/thriller, or romance. I've been known to enjoy a good historical fiction, but I was finding it hard to find ones that aren't set during WWII. This one fits the bill perfectly! It does involve the slavery, so I'm sure it's going to be hard-hitting and I'm excited to see where it takes me. It also has a 4.24 rating on Goodreads, which is mind-boggling! I can't wait to pick it up.
---
The Maidens by Alex Michaelides
Ahh, the thriller that was all over the bookternet in 2021. I do want to read this (and this author's first book, The Silent Patient), so this was a pretty easy add. I've heard both good and bad things about it, though, so we'll see how I end up enjoying it. Fingers crossed that I have a good time 🤞🏾
---
Dragon Stones by Amy Henriod
Here we have another fantasy that was recommended and caught my interest! This is an indie published story filled with magic and dragons. There's a young man who has to reconsider everything he's ever learned about dragons when he happens upon one of their sacred stones. It sounds like it's going to be a fast-paced and wild ride and I'm ready for the journey!
---
The Last Wish by Andrzej Sapkowski
This is one of those fantasy novels that I've been wanting to read for a long time, but was intimidated by the size of the series. Like, I'm already knee-deep in a ton of series and this one is quite long. But, then, my husband got into them and we now own all the books so… why not? He has also been pushing it on me since he started reading them, so I'm finally giving in 😂
---
Battle Royal by Lucy Parker
And we're back to the romances! This is a book that I hadn't heard much about. After it was recommended and I read the synopsis, though, I definitely wanted to give it a shot! It's about two professional bakers in a baking competition, which sounds like utter perfection to me. I'm hoping for lots of dessert descriptions and a sweet romance to boot. Oh, and this is another grump/sunshine pairing, too! Win-win.
---
The Flatshare by Beth O'Leary
I'm rounding out my challenge with yet another romance. As I said, I'm dipping my toes into the romance genre, so I want to try a wide variety of authors/tropes! This features a pretty popular one: there's only one bed. Beth O'Leary seems to be a rather well-known romance writer, as well, so I figured, why not give this one a go? Here's hoping I love it!
---
There we have it, y'all! My 12 recommendations that I'm determined to read in 2022. I haven't started on this challenge yet, but I'm really looking forward to seeing how it turns out at the end of the year. Perhaps I'll find some new favorites 😄
Have you read any of these books? Do you have a suggestion as to where I should start? Let me know in the comments!
And, as always, happy reading!